IMPORTANT: I will give this site a complete revamp later this year, most of what you see here is my old work. Please visit my blog to see what I have been up to recently : CLICK HERE
-WELCOME- It is my pleasure to welcome you to www.creamdog.net, the Digital Doghouse of Creamdog Design. Within these pages, you will find examples of my artwork, varying from 2D illustrations to traditional and digital 3D pieces. Feel free to look around, I sincerily hope you enjoy your stay. It is my intention to update every month or so, so if you like my work, please do check in every now and then.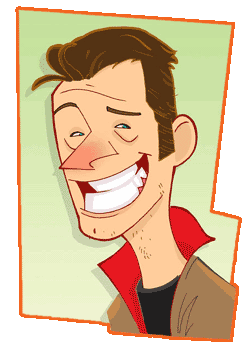 -ABOUT ME-
I am an all-round visual artist currently living in Utrecht, the Netherlands. At this moment I am studying animation, wich has always been one of my mayor fields of interest. Apart from animating, I like drawing comics and figure sculpting. You can find my comics in Break Out! magazine and Stripnieuws, and on a less frequent basis in various other magazines
I am always on the look-out for new and exciting projects to be involved in. If you think I could mean something for your project, please feel free to email me. -CONTACT-

Creamdog! Design
Patrick Schoenmaker
Pelikaanstraat 37b
3582 SG Utrecht
the Netherlands

info@creamdog.net

The entire content on this site © 2004 Creamdog and/or Bumblebeast bv.